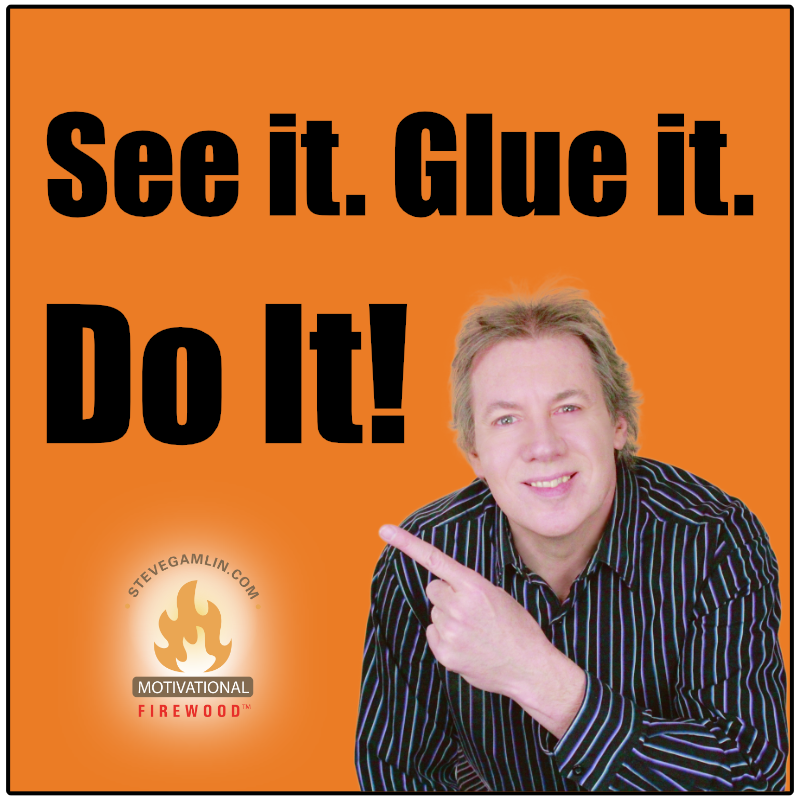 There are many Vision Board trainings out there, and I am not here to bash
any
of them.
Do they all go into the depth of training that my Program (Vision Board Mastery) does?
From my own personal experience, no.
For those who
prefer
a simplified key to unlock the process of goal achievement through the assembly of a Vision Board, here it is:
1. SEE IT: Whatever your goal may be, identify it in such a way that you can 'see it' with your eyes closed. Dial it in. Focus.
2. GLUE IT: When you can see it in your head, take a snapshot. Or find one. Or draw one. Dig deep in your imagination and use the vast array of options out there to find (or create) the exact thing you see. HINT: the internet is a great start. So is your own camera, as well as your imagination.
Keep these images where you can see them daily. Allow others to see them.
3. DO IT:  You can't just sit there on the side of the road and expect the mountains on the horizon to get any closer. You need to be engaged in your life, taking intentional ACTIONS, every day, to get closer to them.  Could it take a while? YES! Is it worth it? YES! Consistent action WILL get you closer to pretty much anything: a smaller number on your scale, a better relationship, more positive emotions, a more rewarding career, etc.
What are YOU willing to do, today, to get closer to just ONE goal, hope or dream in your life?
As I said at the opening, this 3-step process is super-simplified. As my awesome clients and attendees will attest, I dig out the backhoe in my Vision Board Mastery live events and audio training program and go DEEP, DEEPER and DEEPEST to find the real gold.
Want to learn more?
We have made a FREE Masterclass available (along with other helpful programs) at MotivationalFirewood.com.
Want to have a chat to see how Steve can help?  Set up a FREE 15-minute conversation by visiting SteveChats.com. 
Are YOU part of the Facebook Vision Board Mastery Facebook Group yet? Very cool community, and much of what is shared there helps to inspire future show topics. 
See you all in the next episode!